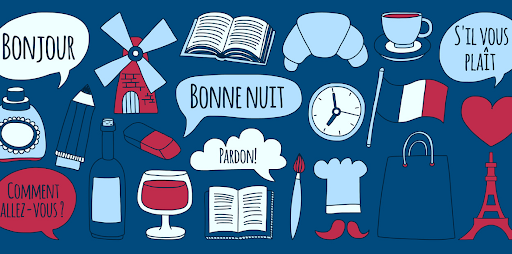 Frenchpod 101 레벨 1 레슨 24~27까지의 공부한 내용을 정리해 보았다.
어휘
aller : to go
Je vais chez Nicole. : I go to Nicole's house.
bientôt : soon
Ma petite amie va être bientôt là. : My girlfriend will be here soon.
alors : then, so
Alors, qu'est-ce que tu fais? : So, what are you doing?
vieux(M), vieille(F) : old
C'est une vieille église. : It's an old church.
rentrer : to go in to, to go inside
Il est rentré dans le magasin juste pour dire bonjour. : He went in to the store just to say hi.
la campagne : the country
J'ai besoin d'aller à la campagne pour me reposer. : I need to go to the country to rest.
la mer : the sea
La mer Méditerranée est agréable. : The Mediterranean sea is pleasant.
demain : tomorrow
À quelle heure tu viens, demain? : What time are you coming tomorrow?
tôt : early
Je recommanderais de dormir tôt. : I would recommend to sleep early.
문법
Verb Aller ("to go")
Subject + Conjugated Verb aller + à/au/à la/à l'/aux + Destination
je vais : I go
tu vas : you go
il/elle va : he/she goes
on va : we go
ils/elles vont : they go
nous allons : we go
vous allez : you go
À + city

Je vais à Montpellier. :

I go to Montpellier.

à l' + destination starting with a vowel

Il va à l'avenue Foch. :

He goes to the Foch avenue.

au + masculine destination

Tu vas au spectacle. :

You go to the show.

à la + feminine destination

On va à la visite guidée du musée. :

We go to the museum-guided visit.

aux + plural destination

Elle va aux spectacles de rue. :

She goes to the street shows.
Possessions with the Verb Avoir("to have")
il/elle a : he/she has
on a : we have
ils/elles ont : they have
nous avons : we have
vous avez : you have